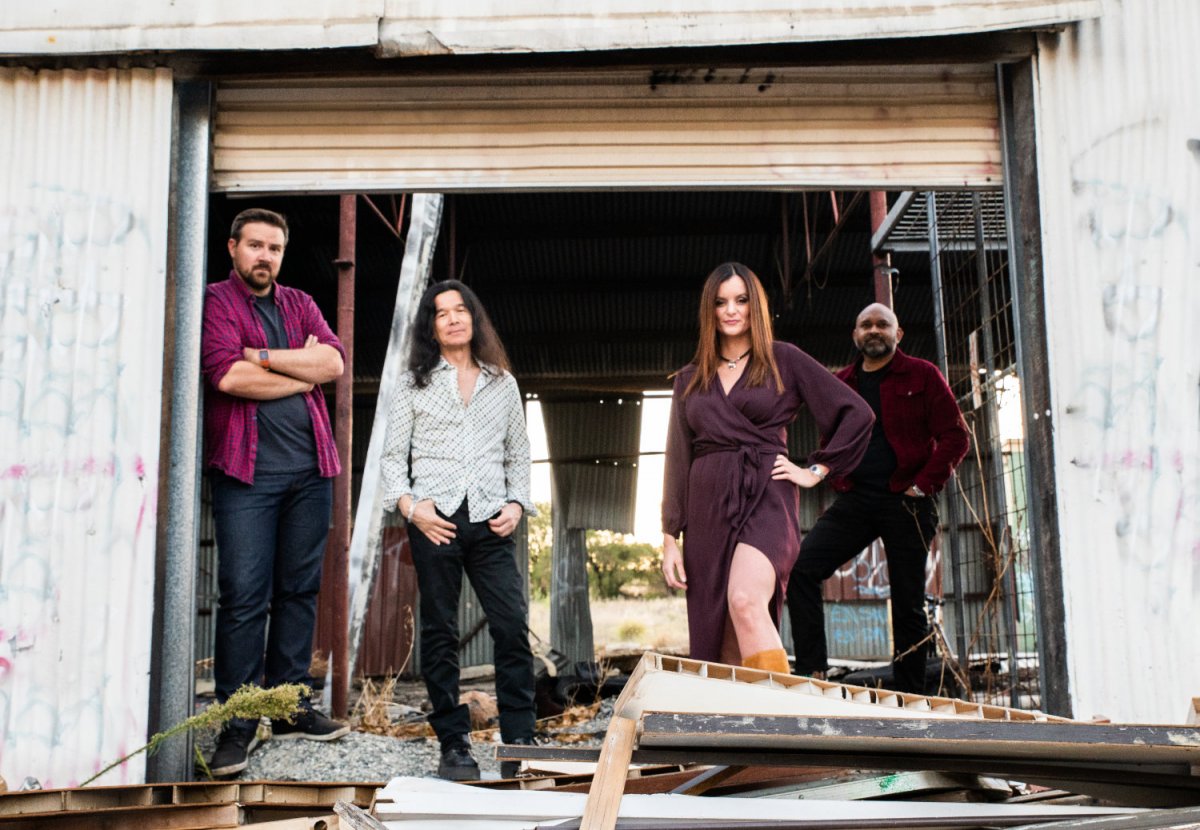 The Band
Often compared with artists such as Siouxsie and the Banshees, Cocteau Twins and Kate Bush, Perth band Sonica's retro-alternative sound traverses the boundaries of 80s post-punk, dreampop and shoegaze and produce melodic and moody anthems.

Formed in 2019, Sonica's sound and story can be traced back to guitarist Alan Pettigrew and Bassist Roshan Weddikkara's involvement in the Perth alternative club and music scene in the late 80s and 90s, where they separately developing a passion for post-punk, goth, shoegaze and UK indie underground at it's pre-grunge peak.

Fast-forward to 2019 and a very modern twist saw the two meet via musician-matching website Bandmix.com.au.

Their mutual interests sparked song-writing and experimentation with sound development: Alan's loud effects driven guitars influenced by The Cult, Lush, Curve and Ride, with Roshan's driving melodic basslines drawing heavily from Joy Division/New Order's Peter Hook, the Cure's Simon Gallup and the Banshee's Steve Severin.

The pair were focused on a female vocal to complement the style, which led them to vocalist Claire Turton whose varied musical background and classically coached voice offered a mesmerising and potent counterpoint to the band's sound which had begun to evolve beyond its initial influences.

France-born Sylvain Ayrault completes the sound, bringing jazz and prog influenced drums which adds a different dimension to the sound.

Although the band is most directly influenced by the classic sounds of Cocteau Twins, Lush, The Cure, Siouxsie and the Banshees and Mazzy Star, elements of Sonica's sound can been found in more contemporary outfits such as Silversun Pickups, Faith and the Muse and Delphine Coma.

Claire - Vocals
Claire was born in Melbourne, and cut her musical teeth while living in the UK on 90s stalwarts The Bluetones, Radiohead, Garbage and the Prodigy. Music was in her blood from early age, spending school recess and lunch in the music rooms of a dozen primary schools and three different high schools during a complex youth. Claire even taught herself to play the piano to high school level without having one at home!
As an adult, Claire sought classical training, and was privately taught by some of the WA Opera's Sopranos before taking a break from music. Over that time her vocal influences evolved and extend from Karen Carpenter to Amy Lee and Shirley Manson, and Enya. Developing a taste for writing, her lyrical and vocal style have found a creative home with Sonica.
Alan - Guitar
Alan always had a love of music and rather than be a spectator, felt an overwhelming desire to create original musical compositions. As a self-taught bassist, he formed a number of alternative local acts such as Neon Rhyme, Shake Appeal, and the goth-tagged Veil which was nominated as one of the finalists for WAMI in 2003.
Following the demise of Veil, Alan provided bass duties for a number of musical acquaintances, but was not interested in becoming a full time member for any of these acts and eventually lost the desire to perform live. Turning to guitar, the advent of Sonica has reignited his interest to play live. Alan's key influences include My Bloody Valentine, The Cure, Lush, Beck, Curve, Japan, The Cult.
Roshan - Bass
Perth born Roshan's early training in piano and trumpet wasn't capitalized on until his 20's when like many, he picked up an instrument to emulate his heroes and attract girls. A foray into indie-pop saw his 90's band The Ribbons (which featured former Schvendes drummer Greg Hosking on Guitar) briefly emerge before falling way, with Roshan turning to a love for electronica both producing and DJing into the late 90s.
Roshan's passion for music stretches across diverse genre's such as indie-rock, shoe-gaze and dream-pop, to goth industrial, synth-pop, IDM electronica, ambient, drum'n'bass, reggae and ska. His key bass influences include tonal and style inspiration from Peter Hook (Joy Division) Simon Gallup (The Cure), Simon Raymonde (Cocteau Twins), and Steve Severin (Siouxie).
Sylvain - Drums
Hailing from Grenoble, France, Sylvain's interest in percussion started with his mother's pots and pans, eventually graduating to his first drum kit at age 8.
His first outfit, a progressive rock band called "The Great Nothing" saw him through the end of high school. Throughout his uni years, Sylvain drummed for multiple jazz bands both in France and Sweden.
Sylvain moved to Australia in late 2008, and after a short hiatus, he co-founded progressive rock band "South Saturn Delta" in 2012, performing in pubs and friend's gardens.
More recently Sylvain played with Isle de Cloud, a surf rock band, who recorded their first EP in late 2019. Sylvain joined Sonica just before the Covid19 isolation started and this has already proven to be one of the most memorable musical adventures in his musical career.